Take the smallest of countries in the world. Dig a little deeper into their history, cultures, heritage, and you'll come across a brimful of fascinating new information that will leave you in wonder.
These are facts that give unparalleled insight into local life, traditions, and beliefs. Specific to each country, these bite-sized packets of knowledge eventually make every nation unique in its identity, separating them from the others.
The Maldives is an extraordinary archipelago. Surrounded by the Indian Ocean, it is the smallest nation in Asia based on the landmass. However, while its land area is only 298 sq km, Maldivian islands are spread far and wide across a total area of 90,000 sq km.
With this kind of dispersion comes a high level of influence from surrounding nations. Maldivian culture and cuisine, for example, have undeniable links with African and South Asian traditions.
Similarly, while the Maldives might be far from other countries, it holds a topographical connection with the Indian Subcontinent that goes back millions of years.
Full of surprises, boasting vivid aquatic life, and offering ample options for romantic escapes, Maldives, more often than not, leaves first-time visitors in a state of amazement.
However, to truly appreciate the island nation and its people beyond its underwater restaurants, luxury resorts, and diving spots, you have to get the inside scoop on some of its fascinating trivia.
To get you started on this journey of discovery, here are six facts about the Maldives that you probably did not know!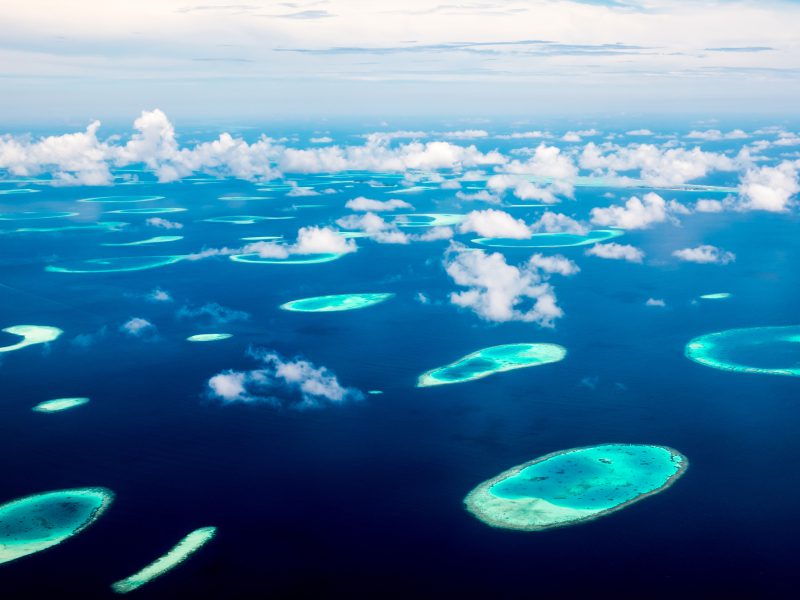 Atoll – what's in the name?
If you're a linguist or a word lover searching for facts about the Maldives, this one is for you. Now, many travelers are already aware that the local language of the Maldives is Dhivehi. It's pretty unique, and learning Dhivehi is one of the free things to do in the Maldives. 
You also probably know about atolls. An atoll is a ring formation of islands, and the Maldives have several beautiful big and small atolls that you can explore.
However, unknown to most, "atoll" is the only Maldivian word frequently used in the English language. Derived from atoḷu in Dhivehi, its application goes back to the 17th century.
Dhoni is another anglicized Maldivian word but refers only to the traditional wooden boats.
The Maldives, millions of years ago
One of the most commonly known facts about the Maldives is that it is the flattest country in the world. But are you aware that it was once a volcanic region?
Of course, this was millions of years ago, and the movement of tectonic plates below the earth's surface stopped any lava flow. Then, over thousands of years, the mountains imploded, resulting in the formation of the islands.
This vast underwater mountain range is known as the Chagos-Laccadive Plateau. It consists of three island groups; the Maldives, Lakshadweep, and Chagos. The range extends from Pakistan all the way down past the equator.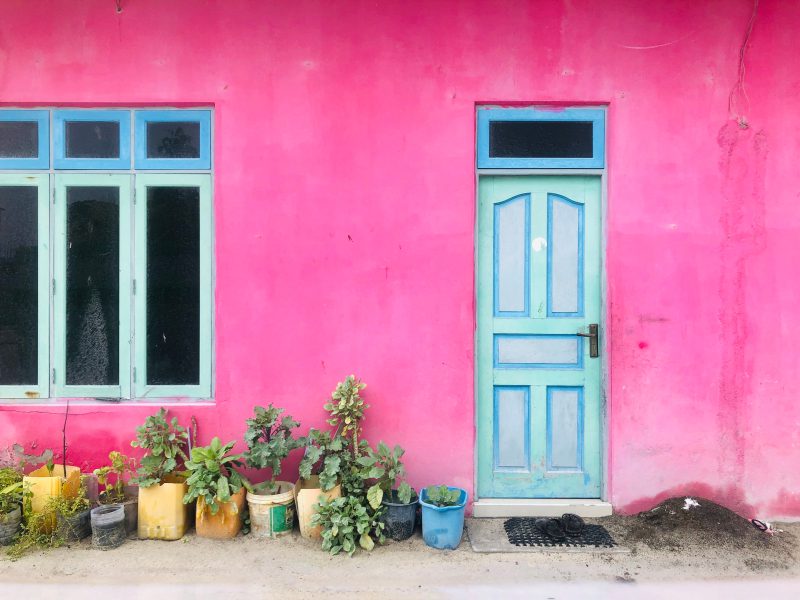 Maldivian house rules
When in the Maldives, tourists interested in learning about traditions often like to visit local homes. You can always mingle with the residents and hope for an invite. Or else, ask your guesthouse host to book a tour that includes a meal at an island residence.
However, when you visit a Maldivian house, it is essential to keep in mind a few traditions. As is the case everywhere on public islands, dress conservatively, preferably wearing clothes covering your arms and legs completely.
Once inside and sitting down for a meal, it is customary to wait for the head of the house to sit first and take the first bite of food. Moreover, one must always eat with their right hand. The left hand, considered unclean in Muslim culture, is hardly ever used. If not comfortable eating with your hands, you can ask for cutlery.
Maldivian people are very welcoming and friendly. Practising the above customs shows respect towards them. If you falter at any point, do not worry. The locals are very understanding and do not expect tourists to know every aspect of their daily rituals. 
An island holiday gamble
There are always two sides to any destination, and the Maldives is no different. On the one hand, it has extravagant private resorts that define luxury accommodation. On the other, public islands have down-to-earth locally-run guesthouses perfect for budget travel in the Maldives.
Similarly, the weather in the archipelago differs from one end to another. We would love to say that the Maldives, being in the tropics, promises 365 days of sun, but that is not true.
The ideal time to visit the islands is November to April. That's when the sun is shining on most days with occasional, short rain showers. However, don't completely disregard visiting the Maldives from May to October.
Considered the rainy season, being in the Maldives during these six months is a bit of a gamble. There are chances you'll end up with perfect weather. But then, there are also occasions when you face fierce winds, endless cloudy days, and constant rain.
So why take the gamble? Simply because it presents the Maldives in a new light. You might not be able to partake in all activities, but the ambiance is undoubtedly romantic.
Moreover, resorts go out of their way to make your stay extra comfortable. In the end, you can have a relaxing break, eating, drinking, and spending quality time with your loved ones.
Oh! Not to forget, the rainy season is also when you'll get the best resort deals in the Maldives.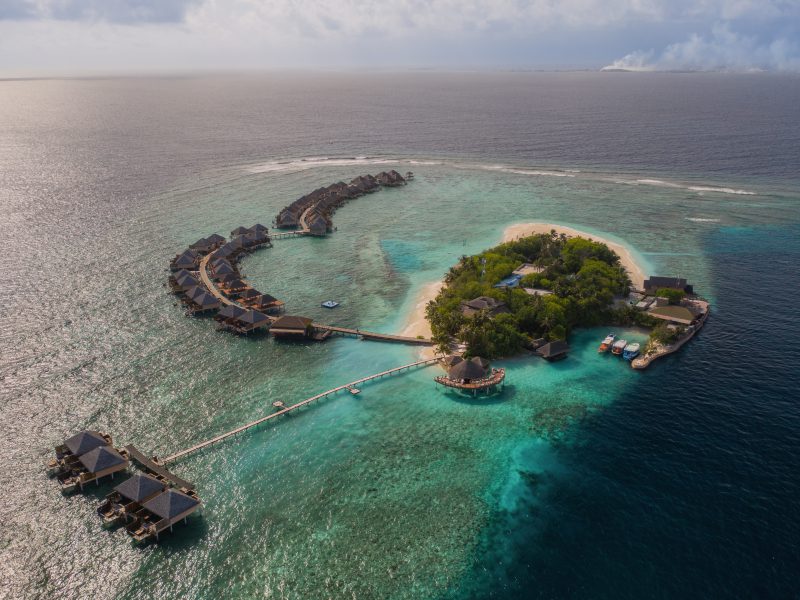 The first overwater villa
Modern-day overwater bungalows in the Maldives are the talk of the town. The epitome of luxury, they offer comfortable stays, providing guests with the best furnishings, gadgets, and uninterrupted views of the Indian Ocean.
Additionally, lavish versions of the overwater villas have unbelievable features. From infinity pools and retractable roofs to water slides that drop you straight into the water, they are no less than mini-theme parks for adults to enjoy.
But a lesser-known fact about the Maldives is that it has over 5000 water villas throughout the archipelago. That's over half of all the water villas in the world!
Another interesting titbit of this distinctive form of accommodation is that the first water villa in the Maldives dates back to 1986. Located on Adaaran Prestige Vadoo resort, the bungalow was a collaboration between Singapore and Japanese architecture and engineering firms. 
The resort's name, at that time, was Vadoo Diving Paradise. Tokohiko Sakamoto was its Japanese owner, who came up with the idea of having a water villa. After inaugurating the overwater residence, it took about two years before other resorts started building similar accommodations. After which, there was no stopping the trend that is still in vogue to date.
Unfortunately, tourists cannot stay in the first-ever water villa of the Maldives. However, it is still possible to see it if you visit Adaaran Prestige Vadoo. 
Miruhulee boava – a tasty delight
Food is never an issue in the Maldives. If you are staying on a private island, you have access to an array of world cuisines. Maldivian resort chefs are known for cooking the most delectable dishes using regional and flown-in ingredients to satisfy every palate.
One of the facts about the Maldives is that its local food is equally delicious. Made using straightforward, island-found, and grown ingredients, it consists of bold flavors and simple preparations.
Although there are several unique dishes that you'll come across while enjoying the gastronomic delights of the Maldives, one recipe is quite remarkable. Miruhulee boava is something you won't generally find at resorts and is rare on inhabited islands too.
Octopus tentacles, cooked in coconut oil with dried chilies, curry leaves, onions, peppercorns, cumin, and garlic, it is a traditional recipe that is a must for seafood lovers.
The final curry paste of the dish is usually thick, and when appropriately braised, the octopus has a bite that gives it a nice texture. Since miruhulee boava is not standard on restaurant menus, if you come across it, order it!