Transportation in the Maldives
The Maldives guarantees visitors the time of their lives in an enchanting part of the world. Because of its exotic location and tropical climate, the archipelago is among the top island destinations frequented by thousands of tourists every year.
Thus, it is not surprising that the Maldives, even though it occupies a secluded spot in the Indian Ocean, is easily accessible via air from Asia, Europe, and the Middle East. With several options to further visit its resorts and inhabited islands, traveling to and within the Maldives is the last thing you need to worry about.
Getting to the Maldives
The most straightforward way to reach the Maldives from overseas is by air. There are possibilities to travel by water, mainly to the capital city of Malé, but they are few and far between.
By Air
The Maldives has four international airports connecting it to several cities across the globe. Airlines such as Air France, Air India, British Airways, Cathay Pacific, Emirates, China Eastern, and Japan Airlines have regular flights arriving in Malé. A few more international airlines and charters function only during specific times of the year.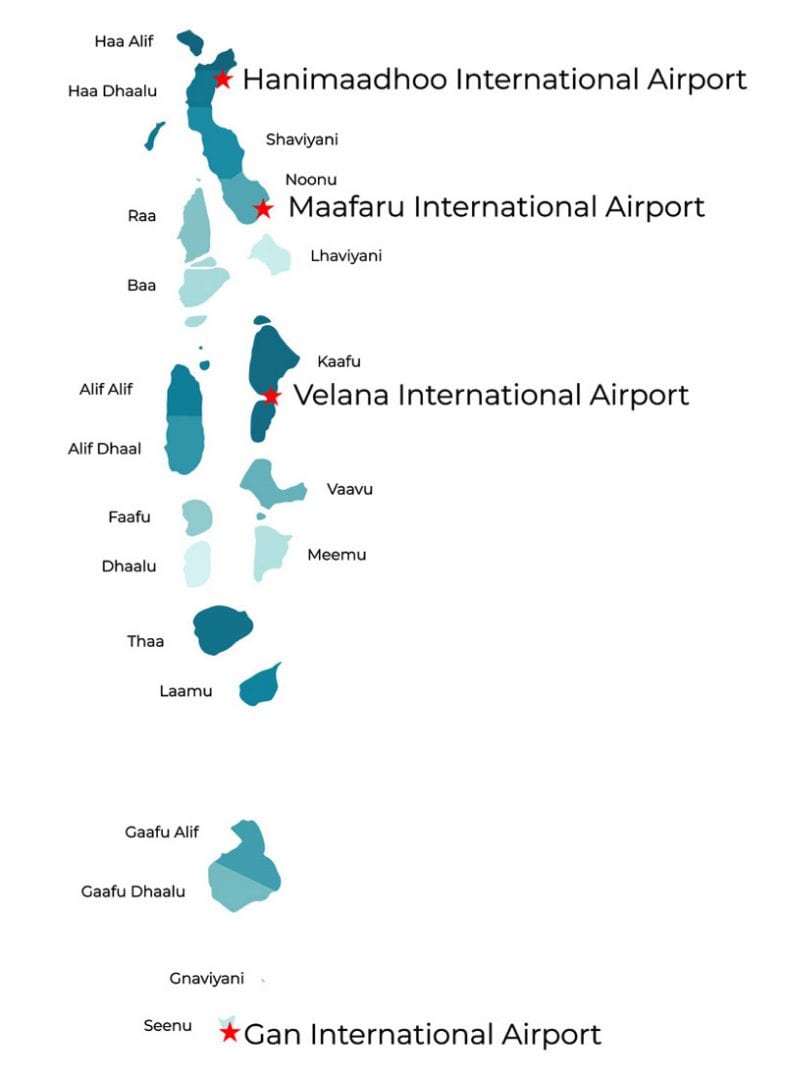 Velana International Airport
Also known as Malé International Airport, Velana is the primary port of arrival for most tourists.
The airport is the largest in the Maldives. It is situated at a distance of 2 km from the capital on the island of Hulhulé. There is one international and two domestic terminals in Velana. Travelers can take seaplanes or speedboats to other islands from here, or else, use the ferry service that operates between the airport and Malé.
Gan International Airport
A former military base, Gan became an international airport in 2017.
At present, the only flight arriving here is from Colombo, operated by Sri Lankan Airlines. The airport does have a domestic terminal used primarily by seaplanes and resort airtaxis.
Hanimaadhoo International Airport
Only Maldivian airline flights operate from Hanimaadhoo, situated in Haa Dhaalu Atoll. The carrier covers Trivandrum in India from here. Planes to other islands of the Maldives also take off from the airport.
Maafaru International Airport
Maafaru is the newest international airport, opened in December 2019. However, due to COVID-19, it is being used by private jets and charter planes for now.
Maldivian is the nation's official air carrier with flights to five international destinations: Bangkok, Kuala Lumpur, Colombo, and Dhaka.
Cruises
There are only a few cruise companies with ships stopping in the Maldives. Due to its shallow waters, most of the islands are not suitable for accommodating bigger boats. Most cruises only visit Malé, allowing its passengers to take day trips to nearby islands, depending on the itinerary.

Private Yacht
Luxury yachts are common around the islands, but ones that are local to the Maldives. A yacht hire depends on the vessel and the crew and typically costs $3500 and above per day.
Tourists coming in from elsewhere via private boats might find maneuvering around the reefs tricky. In addition to that, the Maldivian government has several restrictions and permit requirements for all outside vessels. If you do plan to arrive by boat, using a port agent's services can be extremely useful.
Traveling within the Maldives
With plenty of transportation options readily available, island hopping in the Maldives is a visually stunning experience.
Catering to different budgets, travelers can use local transport to travel fast, in a traditional way, or in a laidback fashion while appreciating the majestic Maldivian seascapes.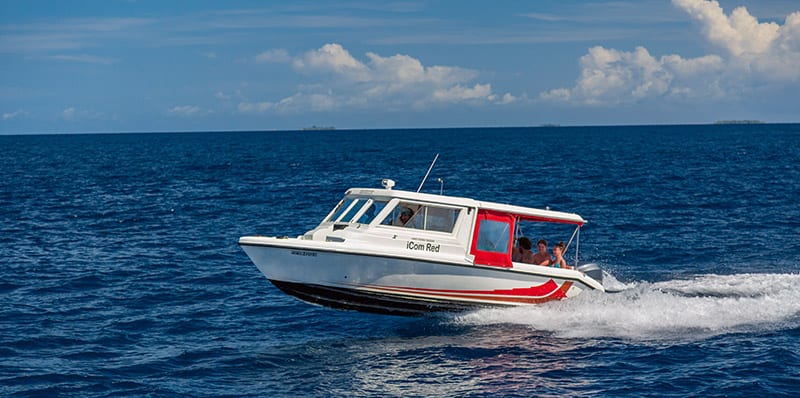 Speedboat
Speedboats are a fun, fast, and slightly expensive way to travel between Maldivian atolls. A trip on the speedboat starts at around $75 and goes up depending on the final distance. Most resorts send speedboats to pick-up their guests at the airport, with the cost included in the total package.
A slightly cheaper option is shared private speedboats, available at Malé International Airport. However, tourists need to book them before arriving, or else, they have to wait until the boat is full. Once at the resort, guests can also rent a motorboat with a crew, for daily excursions.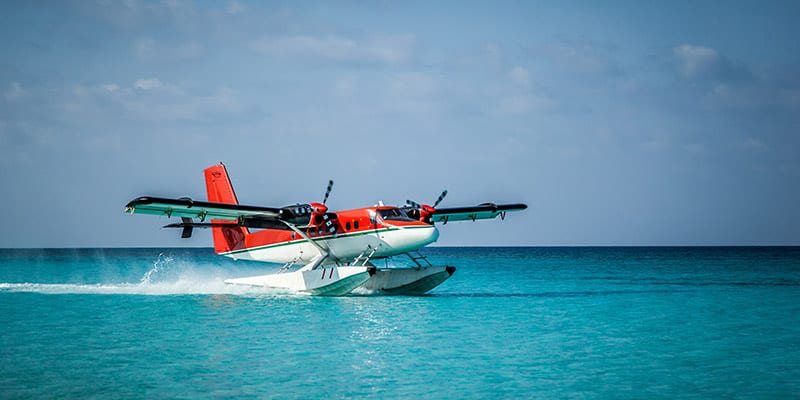 Seaplanes
Seaplanes, on the other hand, make it possible for travelers to visit almost all the corners of the Maldives. Since these planes don't require runways, they operate between inhabited islands and resorts or as excursions to uninhabited regions.
Typically, seaplanes fly during the day, giving passengers a birds-eye view of the archipelago, a memorable sight not easily forgotten. Tickets cost upwards of $300, and there is a luggage weight restriction of 20 kgs on most flights.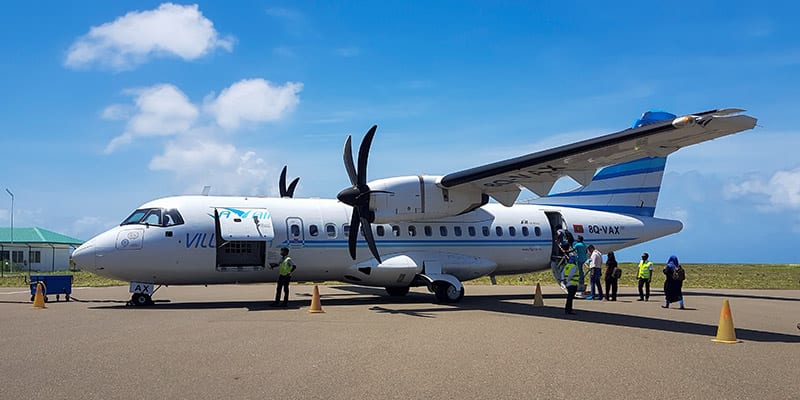 Domestic Flights
There are 16 airports in the Maldives, with 12 explicitly catering to domestic flights. Both Maldivian and FlyMe airlines have regular services between these airports.
Ticket booking for tourists is possible via the internet or through hotels. The local airports are on the islands of Dharavandhoo, Fuvahmulah, Gadhdhoo, Ifuru, Kaadedhdhoo, Kadhdhoo, Kooddoo, Kudahuvadhoo, Maamigili, Thimarafushi, Kulhudhuffushi, Funadhoo.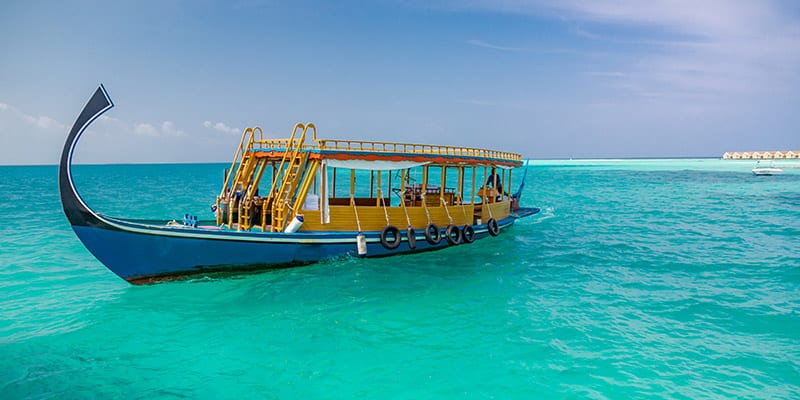 Maldivian Dhoni
A traditional Maldivian boat, dhoni is the ideal way to appreciate local tradition and craftsmanship while enjoying a day-trip out in the sea. Similar to an Arabic dhow in its character, residents use dhonis for everyday transportation, carrying goods, and fishing. Resorts arrange dhoni charters for guests, which cost upwards of $70, based on the chosen excursion. Numerous diving trips in the Maldives also involve the use of a dhoni.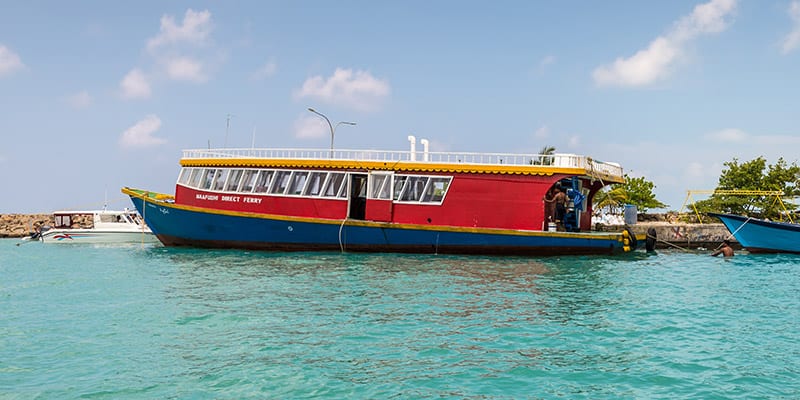 Ferry
The Maldives'ferry network covers all of its inhabited islands. Much cheaper than other modes of transportation, ferries require a relaxed travel plan since many do not sail daily.
Unfortunately, these boats only stop at inhabited islands, skipping over any resorts. Travelers need to check the ferry schedule locally as it is infamous for changing at the last minute.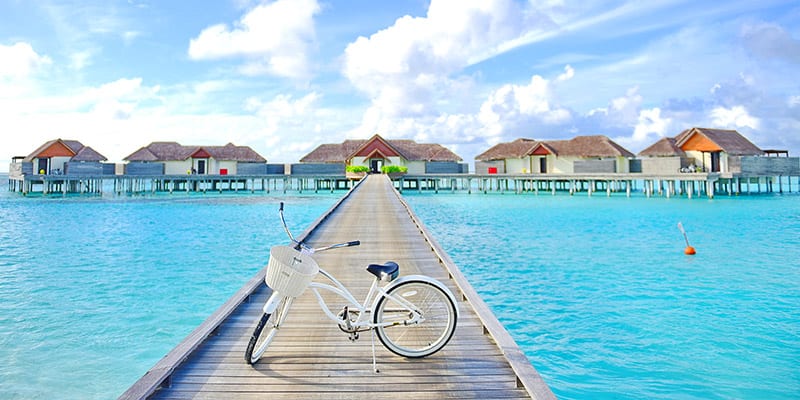 Cycle
Both big and small islands of the Maldives are perfect for exploration on foot or by bicycle. A pleasant way to feel the refreshing sea breeze, cycles permit tourists to visit all sections of an island as well as the chance to mingle with the locals.
While there are no rental options, resorts often have bicycles for their guests and sometimes host bike tours.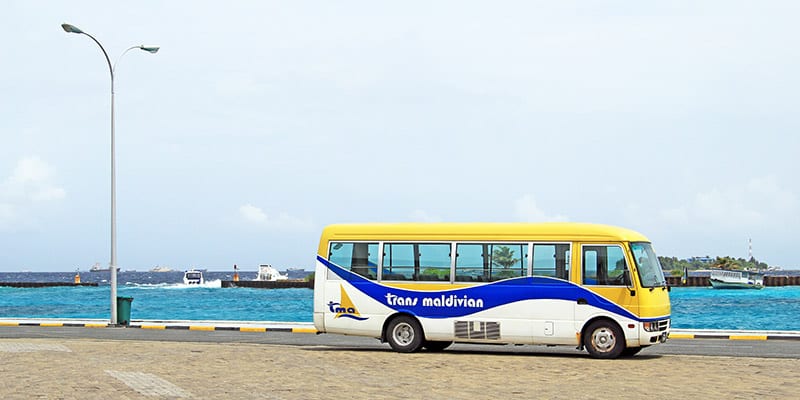 Bus
Public buses in the capital of Malé drive on select routes and cost as little as $0.20 per trip.
There is a regular half-hourly bus service from the Airport to Hulhumale. Do note that buses tend to get crowded when it is raining.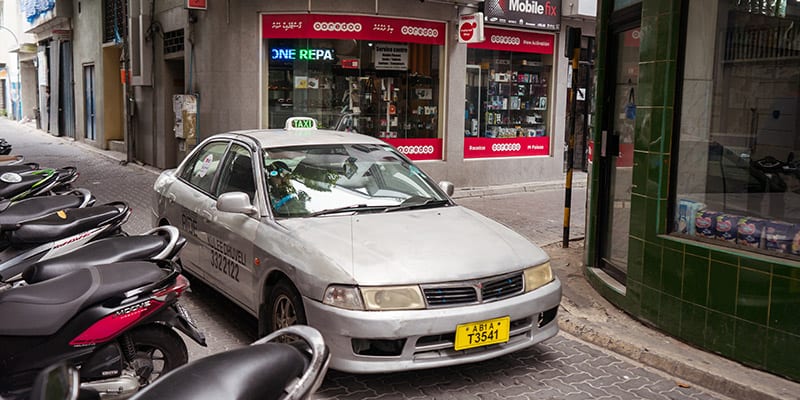 Taxi
Malé, Hulhumale, Fuvahmulah, and Addu all have taxi services.
Tourists can book one through their hotel or hail a taxi on the road. It is also common to share taxis with strangers, which in turn reduces your overall trip cost.