The concept of "if you've seen one, you've seen them all" does not apply to Maldivian islands. In fact, it's pretty amazing how distinct the archipelago is when it comes to minor differences in island topography, local customs, and infrastructure.
Each one of Maldives' islands, be it a public one or a private resort, promises a paradisiacal holiday. Packed with exciting escapades, these are destinations that bask in the beauty of nature, providing memorable moments for visitors who come to the Maldives from across the planet.
Thoddoo is among the most interesting public islands in the Maldives. A vacation here guarantees comfort, safety, and adventure. It is an escape to immerse yourself in everyday Maldivian culture while taking in the splendor of the island's surroundings.    
About Thoddoo
Known as the "agriculture island of the Maldives," Thoddoo lies 67km west of Malé. Covering an area of 162 hectares in the Alif Alif Atoll, a significant part of the island is agricultural land. 
Staying in Thoddoo gives a somewhat secluded feeling. The closest public island from here is 20km away. Nevertheless, this 2km long and 1km wide sanctuary is self-sufficient, with locally produced food forming an integral part of everyday diet.
Thoddoo is home to roughly 1500 residents. The population includes Maldivians as well as workers who come here from overseas to work on the farms. The island has two mosques, a school, playgrounds, a long sandy coastline, dense vegetation, Buddhist heritage sites, and two dive centers.      
Due to the rise in tourism on the island, there are now several guesthouses and hotels in Thoddoo. Travelers can find accommodations ranging from $30 to $150 per night.
There is no alcohol allowed on the island. Nor is there an ATM, although hotels and guesthouses accept credit cards. It is advisable to carry cash when traveling to Thoddoo.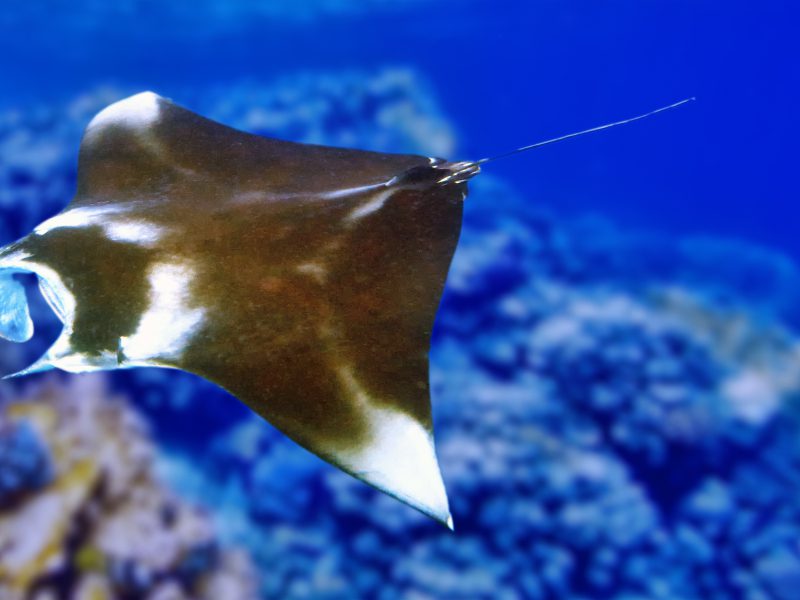 How to reach Thoddoo
Are you wondering how to reach Thoddoo? Well, there are two options; speedboat or ferry. Shared speedboats leave Malé Airport's jetty on all days except Friday. Departure time is usually 16:00, with the trip lasting just over an hour. The return speedboat from Thoddoo leaves at 7:00. Therefore, a day trip to Thoddoo is not possible from Malé unless you hire a private boat. The ticket price for the shared speedboat is $35 one-way.
The other alternative is the late-night fruit ferry that leaves the Malé jetty at 23:45 on Friday, Sunday, and Tuesday. The ferry from Thoddoo to Malé also leaves at 23:45, but on Monday, Wednesday, and Saturday. Ticket prices are only $5 per trip. 
Please always check with your guesthouse or hotel about the latest ferry and speedboat timings. Your host can also help with making the necessary reservations.    
Transportation around Thoddoo
Thoddoo is a relatively large island. Within the main village, travelers can comfortably walk between shops, restaurants, and hotels.
If you want to discover Thoddoo's secluded spots, rent a bike. Bicycle rentals cost $5 per day. Some guesthouses offer complimentary use of bicycles to their guests. With afternoons being hot and humid, riding a bike is faster and less tiring.
Island residents typically travel on mopeds. Farmers use small motorized three-wheeler open-back carriers to transport their products to the harbor.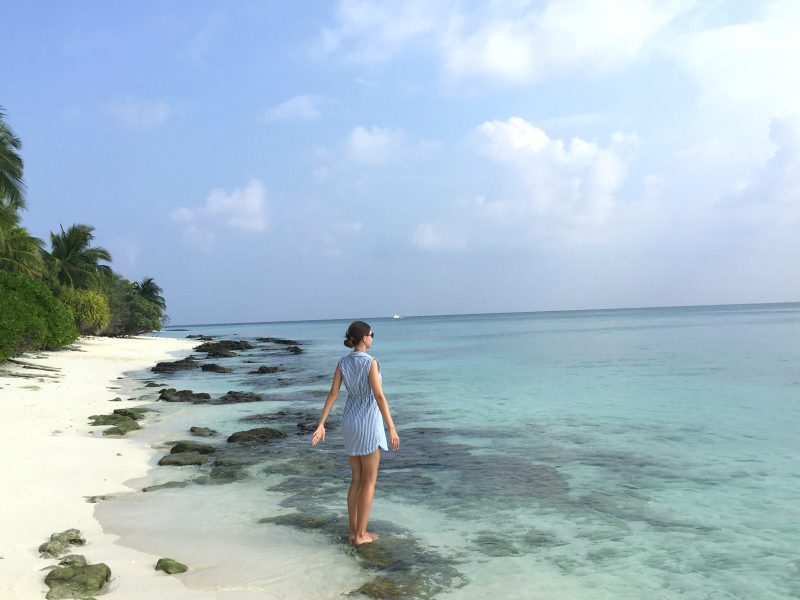 Things to do in Thoddoo
Thoddoo is fast becoming one of the must-visit public islands in the Maldives. A robust tourist infrastructure, the island's proximity to Malé, and its welcoming residents play a significant part in this growing popularity.
Another reason for Thoddoo becoming a favorite with travelers is that it maintains its authentic charm. In doing so, it offers some truly unique experiences over and above routine activities like water sports, fishing, diving, and other famous boat excursions of the Maldives.   
Sunbathe on Bikini Beach
Thoddoo's Bikini Beach is a lovely stretch of sand where tourists can sunbathe and snorkel in their bikinis and swimwear. It's a natural beach with the surrounding vegetation providing much-needed shade during hot afternoons. Situated on the island's western coast, it takes 15 minutes on foot to reach the beach from the village. 
The reef isn't too far off the shore, so take some snorkel gear from your guesthouse before heading to the beach. While swimming, you'll come across several fish and even turtles and manta rays on occasion.
Along the shoreline, there are hammocks, overwater swings that are the perfect background for Instagram photos, and toilets, making it easier to spend hours on the sand. However, do remember to carry sunscreen and water.
Take a day trip off the island
There are three different types of day trips from Thoddoo that you can take. Each one has a distinct appeal, but all are ideal for couples as well as families.
Day trip to Rasdhoo or Ukulhas
One of the most fun activities to do in Maldives is island-hopping. The public islands of Rasdhoo and Ukulhas are near Thoddoo and quickly accessible via the local ferry. It's possible to visit either of the islands by taking the early morning ferry and returning by the evening one. Ferry tickets for this journey costs around $3.50. However, ferries only operate on Saturday, Monday, Tuesday, and Thursday. 
When planning a day trip from Thoddoo, check with your host about the latest ferry timing. Also, due to COVID, the government sometimes closes an island, restricting boats and tourists from other places. Therefore, keep a backup plan for such an occasion.
Day trip to Madivaru Finolhu
The most popular day trip from Thoddoo is to the Picnic Island or sandbank of Madivaru Finolhu. All hotels and guesthouses in Thoddoo can arrange this tour. There's also the possibility of an overnight stay on Picnic Island.
The sandbank has umbrellas and some foliage for shade. It is an idyllic spot for snorkeling, so don't forget your gear. Moreover, you can wear bikinis here. If not part of the package, remember to take snacks and water so you can comfortably enjoy a couple of hours surrounded by the ocean.
Resort day
Tourists staying on inhabited islands generally prefer to spend at least one day visiting a nearby luxury resort. It's a chance to enjoy various foods, relax in swimwear, enjoy pool and spa services, basically indulge in extravagance.
When booking a resort day in the Maldives, ask your guesthouse reception for all the options and the latest deals.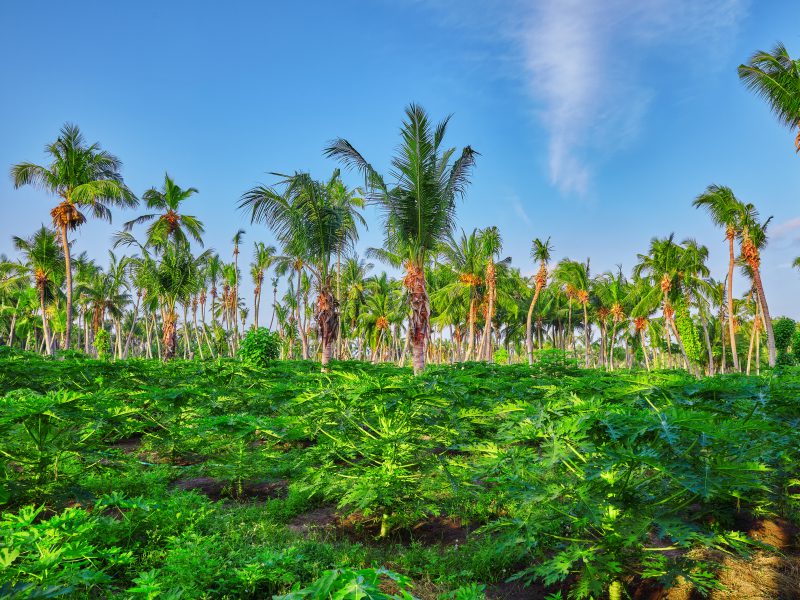 Visit the plantations
Thoddoo presents visitors with an unmatched opportunity to visit different plantations spread out across the island. You'll find local farmers growing everything from papaya and lettuce to cucumbers and pumpkin here. Moreover, Thoddoo is the largest producer of watermelon in the archipelago.
Although you can stop at any plantation and chat with the workers, it's best to book a tour through your guesthouse. This way, they expect you and will provide a more in-depth walk and talk around the property.      
Walk around the village
When it comes to exploring the village of Thoddoo, it's best to wander across its quaint streets on your own. The residents are kind and happy to speak with tourists. It is, nevertheless, essential to dress conservatively when staying and walking around the village.
Among the main attractions in Thoddoo village are the local mosque – Masjid Al Aisha, its supermarkets, conversations with locals while sitting in traditional rope chairs called joali, and playing volleyball or beach football with kids.
Take photos
Thoddoo's lush landscape makes it a one-of-a-kind island that gives visitors numerous photo opportunities. In addition to the beaches and the aquatic life, you can take colorful pictures along palm-tree-lined roads. Capturing village life in frames is another exciting experience that showcases the real Maldives. Although, always ask for permission before taking photographs of the locals.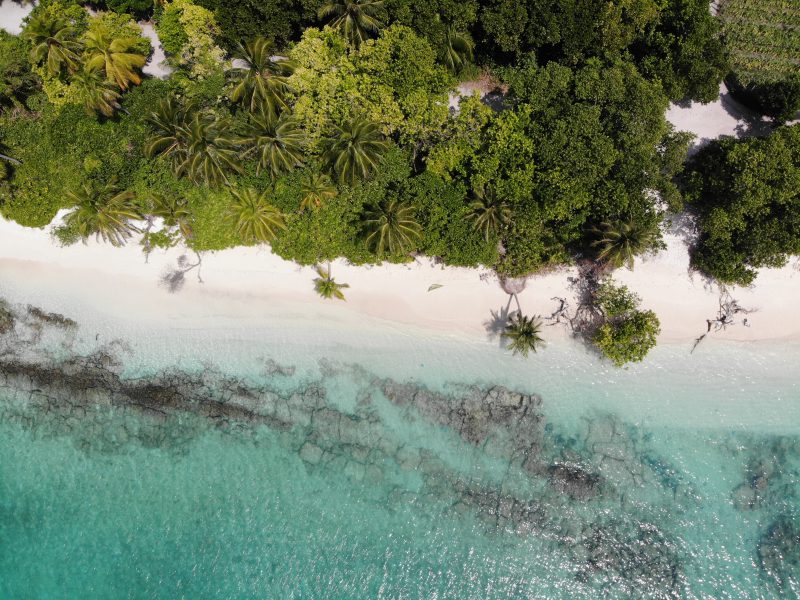 Places to eat in Thoddoo
Guesthouses and hotels in Thoddoo usually include complimentary breakfast in the room cost. Tourists planning on saving money sometimes prefer a breakfast and dinner inclusive package while making a booking. Some residences have a decent in-house restaurant, while others manage with a humble kitchen.
However, due to Thoddoo becoming a popular travel destination, many stand-alone cafes and restaurants are popping across the village. Moreover, several hotels allow non-residents to have a meal at their restaurants. 
FoodLand
A great way to save money in the Maldives is to have a filling breakfast, a snack during lunch, and a proper dinner. Helping you in this endeavor is FoodLand, the island's only bakery.
Although they do have a lunch and dinner service, the cakes, pies, and muffins at FoodLand are perfect tummy-fillers during the day. For a proper meal, choose from an extensive menu that includes pizzas, soups, salads, fish and chips, burgers, fried rice, noodles, and so much more. FoodLand is also the best place in Thoddoo for coffee.      
PriAni
A primarily Italian restaurant in Thoddoo, PriAni is simply brilliant. The chef here takes great pride in cooking fresh handmade dishes from scratch. The menu is brimming with delectable favorites like pasta, pizza, sandwiches, pancakes, and healthy smoothies.
The restaurant has indoor and outdoor seating. The staff at PriAni is super friendly and will go out of your way to prepare dishes as per your dietary needs. However, if you enjoy non-vegetarian food, don't miss out on their barbeque chicken pizza!
Seli Poeli
Prawns, calamari with vegetables, tuna burger, a display case filled with mouth-watering Maldivian short eats, and freshly squeezed fruit juice, Seli Poeli has it all and much more.
A lovely restaurant in Thoddoo to relish brunch, evening snack, or dinner, Seli Poeli has an inviting open-plan seating that flows from the inside to the outside. The chef at the restaurant loves to prepare fresh food, which sometimes means you'll have to wait a while before it arrives at the table. Nevertheless, lip-smacking flavors are a surety, making the wait worth the time.
Black Anchor Restaurant
The best restaurant in Thoddoo to visit with children, Black Anchor, has a menu packed with delicious eats. The restaurant's interiors are beautiful and merge seamlessly with the island theme. Adding to its charm are large portions of food, live music on the weekends, a sheesha lounge, and a welcoming staff. Black Anchor also has a set lunch menu on all days.
The must-eats at Black Anchor include but are not limited to seafood platter, octopus, dumplings with meat, tom yum fish soup, and their homemade coconut ice cream.  
Thoddoo Cafe
More famous with locals than tourists, Thoddoo Café is an excellent place to eat when you are on a budget. The food here is mainly Maldivian, along with a variety of seafood options such as lobster. 
The service is quick, but most importantly, you can have a filling meal at Thoddoo Café for as little as $5 to $7.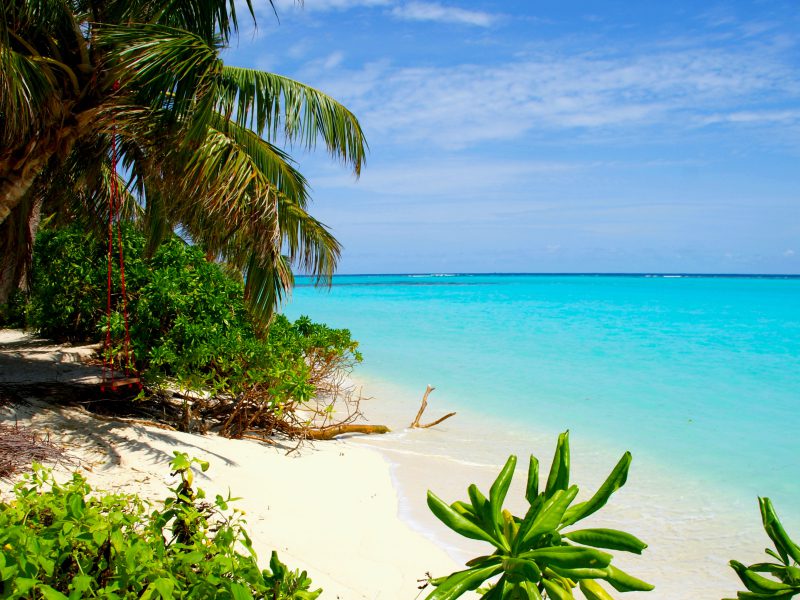 Best hotels and guesthouses in Thoddoo
If one of your requirements for a Maldivian holiday is beachfront accommodation, avoid staying in Thoddoo. To keep the sanctity of the island alive, local laws prohibit any construction on the beach. Moreover, several residents of Thoddoo are proud of their farming legacy and refuse to sell their sea-facing land for any other purpose. 
Nevertheless, there are many fantastic guesthouses and hotels in Thoddoo that are pretty close to the beach. Also, there is hardly ever a shortage of accommodation on the island, and you'll quickly find rooms catering to different budgets.
Relax Residence
Relax Residence is an anomaly when we speak of hotels in the Maldives. It's an adult-only accommodation that allows guests 16-years and above. Although you'll find adults-only resorts in the Maldives, there aren't many hotels or guesthouses like Relax Residence on public islands.
This 14-room hotel is a people pleaser, with the staff always eager to help plan barbeques, excursions, bike rentals, and water sports for their guests. Besides having outdoor lounging space, an in-house restaurant, and breakfast-in-bed service, Relax Residence also has a private beach area for its residents. The rooms at the hotel are full of amenities such as en-suite bathrooms, balconies, air-conditioners, and free WiFi.      
Jeym Lodge
A mini-hotel with 14 rooms, Jeym Lodge, is a wonderful place to stay in Thoddoo. Every room in this residence has a balcony and features all modern-day conveniences. From air-conditioning and bathtubs to flat-screen TVs and wooden flooring, the four-story hotel will appeal to tourists who are okay with pushing their stay budget a little higher.
The facilities available at Jeym Lodge are free WiFi, a private beach area, 24-hour reception, and a garden. The terrace restaurant is one of its prime highlights, granting visitors a chance to take in panoramic views while tasting delicious preparations.  
Thoddoo Island Life
A calm oasis to spend your nights after eventful days, Island Life has an excellent location only 100 meters from the village center. The beach is a short 600-meter walk away. A non-smoking property, the guesthouse has a 24-hour reception, free parking, room service, currency exchange, a garden, shared kitchen, and laundry services.
Island Life does lack room choices, offering only deluxe double rooms. But all the bedrooms have en-suite bathrooms with showers, a seating area, and LCD TVs. There is no WiFi on the property, but they serve Asian and Continental breakfast in the morning. 
Lagoon Villa
Only 200 meters from the ocean, and a 10-minute walk from the center of the village, Lagoon Villa is a popular guesthouse in Thoddoo. The aquatic wall art outside the residence invites visitors to a serene environment that consists of a garden and nine well-appointed bedrooms.
Lagoon Villa has two types of accommodations. Both the double and triple rooms have showers, garden-facing balconies, flat-screen TVs, and air-conditioning. The guesthouse has a restaurant on-site, but they also offer room service. Free WiFi is available across the property, and the host is more than happy to organize airport transfers if required.  
Thoddoo Sun Sky Inn
Greeting guests with their "come as a tourist, leave as a family" motto, Sun Sky Inn is a cute little guesthouse in Thoddoo. This nine-bedroom residence has a homely atmosphere with basic amenities and a small garden that makes every stay relaxing.
The rooms are modest in their décor and come with en-suite shower facilities, a bar fridge, and air-conditioning. The double rooms are ideal for couples, whereas the one with extra beds can accommodate a small family. Sun Sky Inn offers room service, free WiFi, a shared kitchen, and can book various excursions in and around the island.
Pro-Tip:
Unlike some other public islands, guests staying in Thoddoo cannot wear bikinis or swimwear while on the hotel or guesthouse property. They can only wear one on Thoddoo's Bikini Beach or at the nearby Picnic Island.  
N.B.: all information is correct as of the post publication date, and prices are subjected to change.