Luxurious resorts dominate the tourism industry of the Maldives. They attract travellers with their grandeur and an array of indulgent facilities. From multi-cuisine restaurants to overwater villas, the resort islands thoroughly pamper their guests.
However, an equally engaging journey awaits tourists who travel off-the-beaten-path. Public islands in the Maldives opened for tourism in 2009. Since then, they have given visitors a chance to indulge in previously impossible community interactions. As a result, these islands are a gateway to traditional Maldivian life at a pocket-friendly cost.
A tiny dot on the map, Himmafushi is one such mesmerizing escape.
About Himmafushi
At 17km, Himmafushi is a stone's throw away from Malé. A typical fishing island, it is part of the Kaafu Atoll. Measuring 900m x 750m, the island is relatively compact. However, even with a little over 800 residents, it does not seem crowded during the peak tourist season.
Over recent years, Himmafushi has been able to garner enough eyeballs for its excellent surf. The breaks and swells here are some of the best surfing spots in the Maldives.
Being close to the capital has also led to good industrial growth across the island. One can find dhoni (boat) building yards as well as fish processing units hugging Himmafushi's coast.
The island has one colourful street filled with a few souvenir shops selling various handmade crafts from around the Maldives. There are also general stores that provide essential items like sunscreen, snacks, water, and other necessities.
Some of the guesthouses in Himmafushi do offer money exchange facilities. The rates, unfortunately, aren't always favorable. Moreover, although the island finally got an ATM in 2021, it is still advisable to buy the local currency, Rufiyaa, before leaving Malé. Luckily, most establishments on Himmafushi accept credit cards.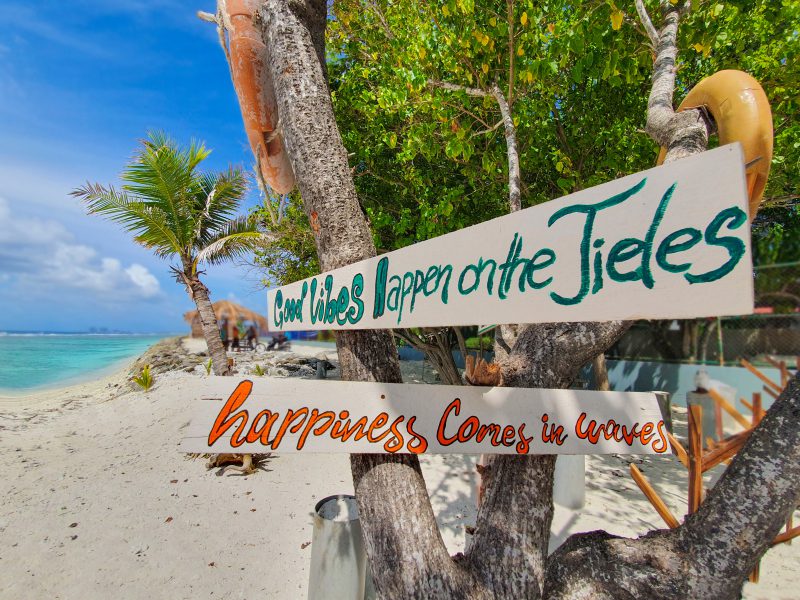 How to reach Himmafushi
Given its proximity to Malé, Himmafushi is easy to reach. There are two main modes, scheduled/private speedboats or the local ferry. The speedboat is the fastest option and takes 20 minutes, while the ferry takes about 45 minutes.
The public ferry leaves Malé at 1500hrs every day except Thursday when it leaves at 2230hrs. The boat departs from Himmafushi daily at 0800hrs every day and at 1800hrs on Thursday. Public ferries do not run on Friday. A one-way journey on this route costs $2.
On the other hand, the speedboats travel three times a day from the airport and cost $10 per way. Their schedules change regularly, and tourists must pre-book speedboats. You should thus check for the latest timings closer to your date of arrival. A private speedboat costs $100 per way and can travel anytime during daylight hours.
Whether private or shared, your guesthouse host can help make speedboat bookings for you in advance.
Transportation around Himmafushi
Himmafushi is small enough that even if you walk at a snail's pace, it will take less than an hour to cover the entire island. Ambling around the island's tiny lanes is also a fantastic opportunity to explore local life from close quarters.
For those, who don't fancy a stroll, most guesthouses offer bicycles for hire to their guests. The price of renting a bike for a day is usually around $5.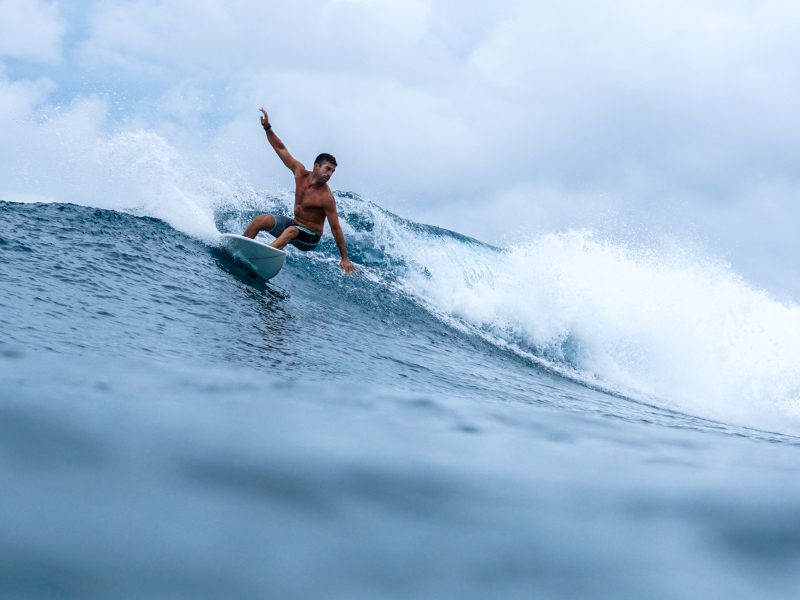 Things to do in Himmafushi
A busy and eventful island, Himmafushi offers visitors the opportunity to have as active or languid a holiday as they like. Some of the best activities to enjoy in Himmafushi are:
Surfing
Boasting the most famous breaks in the Maldives, North Malé Atoll is heaven for surfing aficionados. Tourists staying in Himmafushi have access to some of the most consistent waves in the region. The island is thus perfect for both beginner and advanced surfers.
Jailbreak, one of the island's very own surfs, is only five minutes from the village. It is accessible at any time with minimal dependence on boats. A right-hander, the break gets its name for being in front of the local jail. Some of the other popular surfs are Sultans and Honkys, located a five-minute boat ride away.
Bikini beach & snorkeling safari
A speck of sand on the northern tip of the island, the Bikini Beach in Himmafushi is the place to get that much sought-after tan. It is also the only place on the island where one can wear a bikini. The beach is usually clean, and you will find a few free-to-use sunbeds and umbrellas for convenience.
A must-pack accessory for travel to the Maldives, apart from swimwear, is snorkel gear. Although Himmafushi doesn't have a house reef, there are numerous opportunities to explore marine life on a snorkeling safari. Ask your guesthouse to arrange one whenever the day is sunny, and the waters are calm.
Scuba diving
Although there aren't many dive sites around Himmafushi, it has more than a couple of dive centers. These establishments offer PADI courses and safaris with international standard diving equipment. Some of the prominent dive sites around Himmafushi are:
Aquarium – Aquarium gets its name for having an abundance of reef fish at mere 15 meters. Between 15 – 25 meters, the reef has numerous caves and varieties of rays and sharks. This colorful underwater world is ideal for advanced-level diving.
HP Reef – A conglomeration of reefs, caves, and crevices; HP Reef drops suddenly from 15 to 25 meters at certain spots. The aquatic life here includes schools of rainbow runner, blue-fin jack, and dog-toothed tuna. Pelagics like eagle rays and grey-reef sharks often come here to feast on smaller species.
Nassimo Thila – Situated inside a Marine Protected Area, Nassimo Thila is one of the best in North Malé Atoll. Large overhangs, caves, and a wide variety of marine life populate the region, easily visible between depths of 18 to 25 meters.
Dolphin watching
A dolphin-watching safari is a popular thing to do in Himmafushi for all ages. You can enjoy it without having to get wet. The ocean around the island is home to hundreds of dolphins who are never too shy to give an impromptu aerial acrobatics performance.
Though sightings can be elusive, the cursing experience mixed with a chance to sip on Champagne and watch the sunset is worth your money and time.
Resort day
A popular activity for visitors staying on an inhabited island is a resort day. It involves spending a day at a nearby luxury resort that comes with a chance to pamper yourself silly. You can visit Cinnamon Dhonveli, Paradise Island, and Adaaran Hudhuranfushi for a fixed charge and make the most of their facilities like beach, spa, and pool for a few hours. A resort day pass includes meals and drinks as well.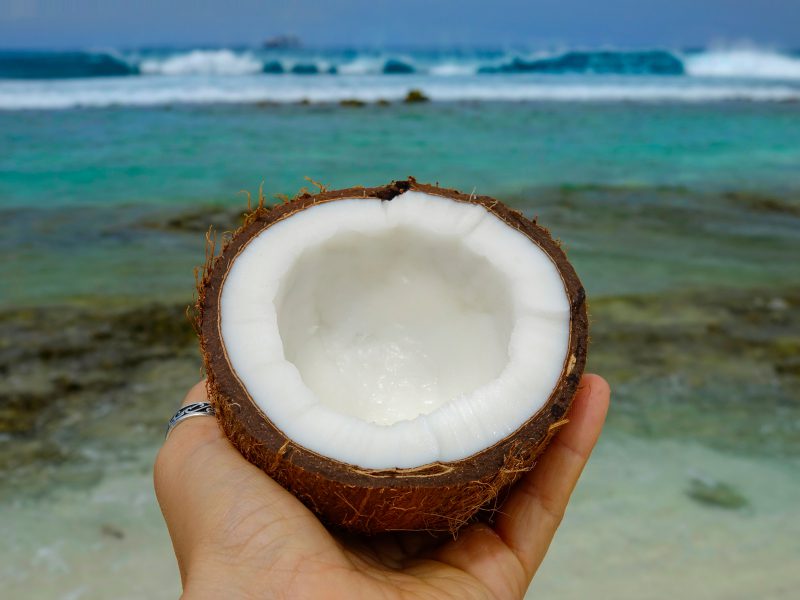 Places to eat in Himmafushi
Restaurants in Himmafushi serve a variety of international cuisines. Although alcohol isn't available anywhere, there are still plenty of Maldivian drinks you can have with freshly prepared local recipes.
Oevaru
A restaurant that many swear by, Oevaru serves a wide array of local and continental delicacies. Seafood, a staple of the country, is a popular item on the menu. The restaurant also offers pizzas, pasta, and burgers.
To accompany the mouthwatering food, they have a wide range of drinks like fresh juices and smoothies. The low-key yet cozy ambiance with ground and rooftop seating is perfect for a quiet lunch. However, dining under the canopy of stars on the roof is an out-worldly experience!
New Point Café  
Many guesthouses in Himmafushi have an in-house restaurant. Located in New Point Inn, this cafe is one such eatery. It serves all-day meals to residents and walk-ins. Only 800m from the beach, it provides an ideal place to wind down after a dip in the ocean.
Nestled among green surrounds, New Point Cafe plates delicious Maldivian specialities like mas huni, hedikaa, and mas roshi, to name a few. Also on the menu are Indian curries and refreshing drinks. The atmosphere at the restaurant, suitable for a short tea break and snacks, is very laid back and inviting.
Anmadey Café
One of the many local-styled cafés, Anmadey offers a Maldivian and international food selection. Mas roshi with rice is one of their best-selling dishes. They also serve a variety of western delicacies like fish and chips, pizzas and burgers. However, their Maldivian flavors tend to be more refined.
Located close to the beach, Anmadey Café has a modest and functional setting. Their portion sizes are more than satisfactory, so make sure you order appropriately.
Bun Me  
Close to Jaffna Park, Bun Me is a cafe in Himmafushi ideal for a quick bite. It offers a variety of meaty burgers and sandwiches as well as ice cream and juices.
Bun Me has compact indoor seating and is, therefore, a popular takeaway option. Their coffee, though, is the best on the island.   
Sea Breeze Café  
Sea Breeze is a well-known cafe in Himmafushi and stays full with locals and tourists throughout the day. A sparsely furnished beachside eatery, it makes for a great setting to indulge in local food. The cafe also has cute little cabanas tucked under the shade of coconut trees that are forever in demand. The friendly staff adds a welcoming touch to any visit here.
The no-fuss café serves mostly traditional Maldivian dishes made using island ingredients. To complement their food menu, they offer thirst-quenching drinks like fresh juices and aerated drinks.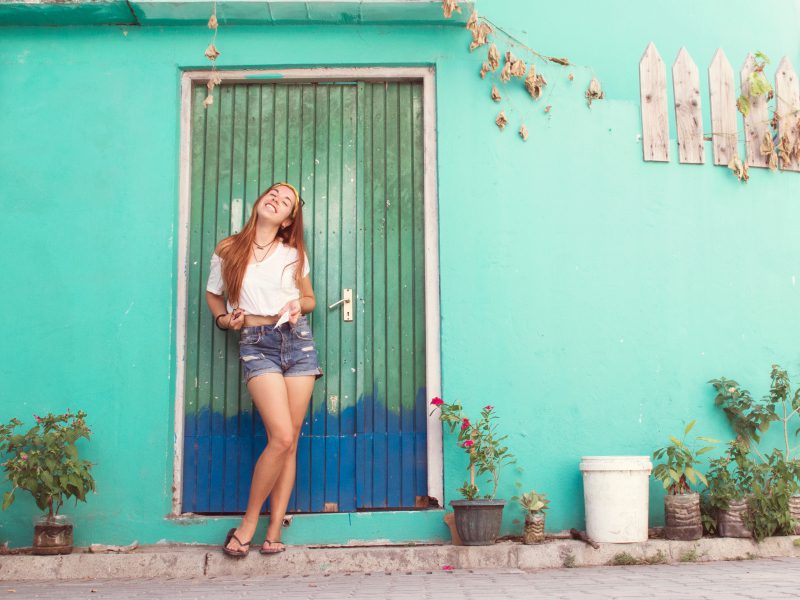 Best hotels and guesthouses in Himmafushi
Himmafushi continues to gain fame as a public island, primarily among surfers and budget travelers. The island now has several excellent guesthouses that provide comfort and convenience to the growing number of tourists who arrive here every year.
Bito's GH
About 250m from the town center, Bito's guesthouse in Himmafushi has excellent access to shops and the beach. One of the newly opened accommodations, it features six rooms equipped with all basic amenities. Additionally, the bedrooms have a safety deposit box, air conditioning, WiFi, and an electric kettle. However, there are no televisions in the rooms at Bito's GH.
The guesthouse has a communal garden area, a calm space for guests to lounge. The in-house restaurant serves continental, Asian, and American staples. To keep the little ones engaged, Bito's has a play area. Finally, the terrace is ideal for watching the sunset and spending a relaxed evening after a busy day out in the sea.
Raalhu Lodge
Welcoming you at Raalhu Lodge is a lovely garden with a long wooden bench that invites you to stop, sit, and take in the moment. A favorite with surfers, the guesthouse is a budget-friendly stay option in Himmafushi. The rooms, though basic, have all essential comforts, including cupboards, a desk, and large windows that open up to the garden.
The front desk here, available 24-hrs, can help plan excursions or transfers. Though the guest house has an in-house restaurant, guests can opt for in-room dining as well. Of course, free WiFi is available around the guesthouse.
Jailbreak Surf Inn
Named after the famous surf breaks, Jailbreak is one of the most popular guesthouses in Himmafushi. A traditional Maldivian home converted to a budget stay, the hosts have kept guests' comfort a top priority. They have single, double/twin, and triple en-suite rooms that come fitted with air-conditioning and comfortable beds to sleep on.
Jailbreak's common areas consist of a lounge with cable television and a shared kitchen. The residence is near a few restaurants where guests can go for their meals. The staff here are always at hand to help with information about the island and to book surfing, diving, or snorkeling excursions.
Eyot Wave
Eyot Wave is a simple guesthouse that extends a warm welcome to its guests. Situated close to Bikini Beach, residents at Eyot Wave have easy access to the turquoise waters of the Indian Ocean. The abode's large garden also doubles as a restaurant serving breakfast and all-day snacks.
The rooms, bathed in bright colors, have minimalistic yet tasteful furniture. They have air-conditioning, a dressing table, and en-suite bathrooms.
Kanbili
Kanbill is a purpose-built guesthouse, designed to provide a snug little place to stay on Himmafushi. Impressively, Kanbili has undertaken many sustainable and green initiatives like LED bulbs for energy conservation, waste management, and planting of native tree species.
The eight individually decorated rooms have themes around the beach and offer day beds on a private terrace or balcony. The comfortably furnished abodes have all creature comforts and attached private bathrooms. Furthermore, the exclusive beachfront dining experience at Kanbili, 360 degrees, dishes out flavors from all over the globe. Most evenings, there are live music sessions here.
N.B.: All information is correct as of this post's publication date. The prices mentioned are subjected to change.