A solo vacation at a Maldivian resort might still seem like a foreign idea to many, but it's actually a realistic possibility.
Over the last decade, the Maldives has reinvented itself as more than just a honeymoon destination.
The opening of guesthouses on public islands has been instrumental in making this tropical paradise a solo traveler and a budget-friendly destination.
However, one common misconception that still lingers is the thought that resorts do not cater to individual vacationers.
On the contrary, some of the best resorts in the Maldives for solo travelers now offer special packages for tourists arriving alone.
So, booking a luxury resort in the Maldives as a single tourist is ideal for some "me time," a holiday full of pampering, or to indulge in an extended remote working escape.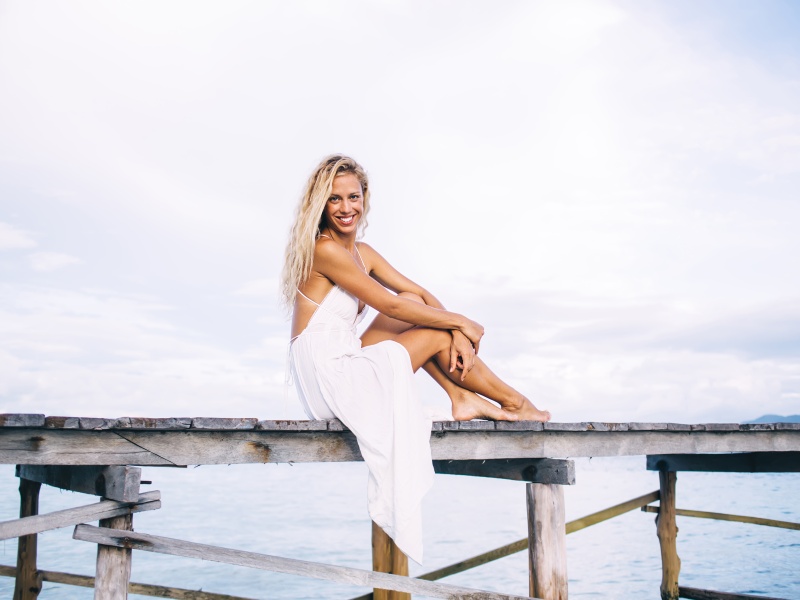 Advantages of staying in a resort for solo travelers
The benefits of booking a villa on a private island are manifold. More importantly, they cover all aspects of your holiday, from accommodation to food and excursions.
Luxurious
Solo travelers often stay in Maldivian guesthouses on public islands. Doing so is an excellent option to immerse yourself in the local culture and save money in the Maldives.
However, unlike a resort, guesthouses cannot provide the same level of luxury. Maldivian retreats are known for their opulence, grand features like private pools, multiple dining options, and 24-hour service.
Safety
The Maldives is already a safe country, no matter where you are in the archipelago. However, there is extra peace of mind when you are a resort guest, especially when out and about on the island after sunset.
Lenient point of view
When staying in a guesthouse or a hotel on an inhabited island, you must adhere to local conservative practices. These include not wearing revealing clothes, no alcohol, and no public display of affection.
In contrast, at a resort, you can wear a bikini in most places and can enjoy alcoholic drinks throughout the day.
A liveaboard comparison
A liveaboard is a unique Maldivian experience. It allows you to explore different parts of the country instead of staying on one island. Moreover, liveaboards consist of individuals or groups that come together for a purpose, making it ideal for solo travelers.
However, some tourists traveling alone might find living on a boat 24×7 a little restrictive and confining. There are also limitations in terms of excursions, particularly on-land activities, as well as food choices. Thus, a liveaboard is best suited for travelers who focus on a singular activity like diving or snorkeling.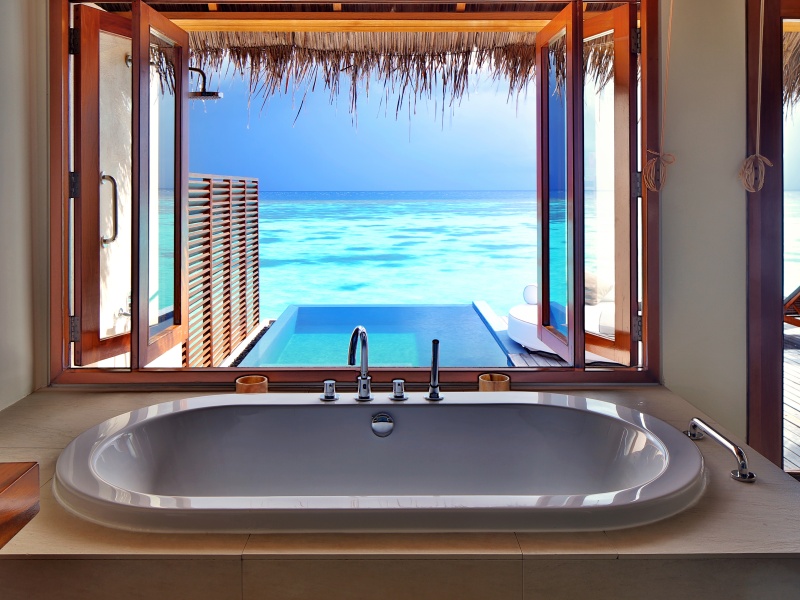 Spacious
Another huge advantage of staying in a resort is that even the smallest of rooms are pretty big. Moreover, they come packed with fantastic features and amenities such as freestanding tubs, open showers, plunge pools, lounging decks, air-conditioning, gorgeous furnishings, and stunning views.
No restraints
You can do what you like at a private retreat when you want. Feeling peckish in the middle of the night? Call room service and have them deliver sushi. Getting bored, go to the bar and mingle with other guests.
On public islands, you have to rely on locals for everything, whether organizing an excursion or having a meal. Moreover, different commercial establishments have different timings on the islands.
Making friends
Solo travelers staying in a resort have the opportunity to befriend the staff and learn about local traditions, culture, and language from them. While Maldivian resorts are known for their immaculate service, the team tends to be extra helpful when catering to solo tourists.
A mix of social interactions
On private islands, everyone does their own thing. Consequently, you have social areas where you can mingle with other guests. At the same time, there are enough secluded spots if you wish to enjoy the tranquility of the island.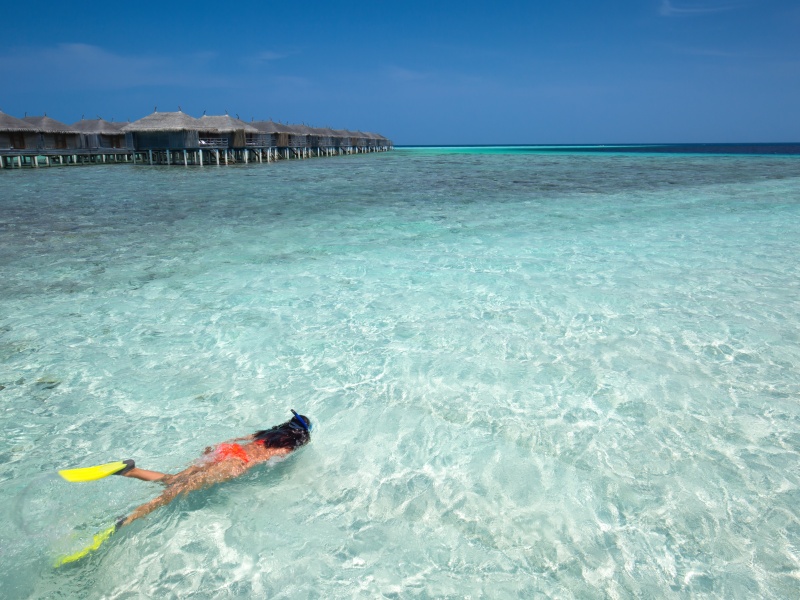 Excursions galore
Guesthouses can offer their guests some of the more basic tours. These range from night fishing and scuba diving to snorkeling and even sandbank picnics.
In contrast, the best resorts for solo travelers in the Maldives have a range of excursions on their activity menu. Including both paid and free activities, you can enjoy daily fish feeding at the dock, snorkeling adventures, jet ski safari, astrophotography, and cooking classes.
Spa experiences
When staying at a resort on your own, you can indulge wholeheartedly in some of the most exclusive spa experiences in the world. From hydrotherapy to Himalayan salt chambers, retreats offer remarkably exotic treatments that will leave you totally revitalized.
Cheaper than a double
A resort stay is much costlier than staying in a guesthouse on a public island. There is no question about that. However, resorts do provide more facilities, and the quality is top-of-the-line.
Still, you'll be happy to know that many resorts charge room rates on a per-person basis. So, when staying alone, the cost of the room tends to be a little cheaper than when paying for double occupancy. Not a lot, but you do end up saving a few hundred dollars.
In-villa dining
Often, solo travelers do not like going to resort restaurants and sitting alone. In such a case, you can always order food in your room.
Room service in Maldivian resorts is excellent, and you'll get pretty much anything available anywhere on the island. More interestingly, room service often turns out to be slightly cheaper than eating at a resort restaurant.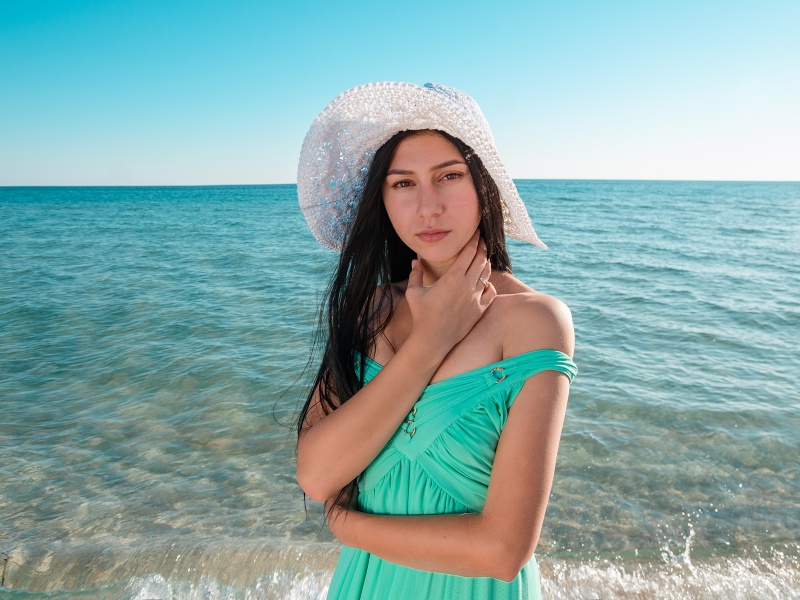 Disadvantages of staying in a resort for solo travelers
Compared to all the benefits, there are far fewer disadvantages to staying in a private retreat for solo travelers. Most of them relate to accepting a mindset that normalizes traveling alone.
A quiet holiday
Picking the right resort is crucial when traveling solo. If you choose an island that is too small, it might have limited excursions. Unless wanting to feel secluded, things can get mundane when staying alone in such a place for an extended period.
Social distancing
No, we aren't talking about Covid protocols for a change. You see, the majority of the guests staying in private resorts are couples, families, or groups of friends. Unfortunately, most tend to eat, tour, and play together. Consequently, it makes it difficult for solo tourists to mingle with them.
Try participating in group activities like beach bonfires or cultural programs if you miss the social interaction. You can also ask the resort for any popular group tours or lessons. Many individuals leave behind their spouses or groups to partake in cooking classes, surfing lessons, and the like.
Minimum requirement
Unfortunately, many resort excursions have a minimum requirement of participants. One of the biggest complaints by single tourists is the cancellation of outings because there just aren't enough people interested.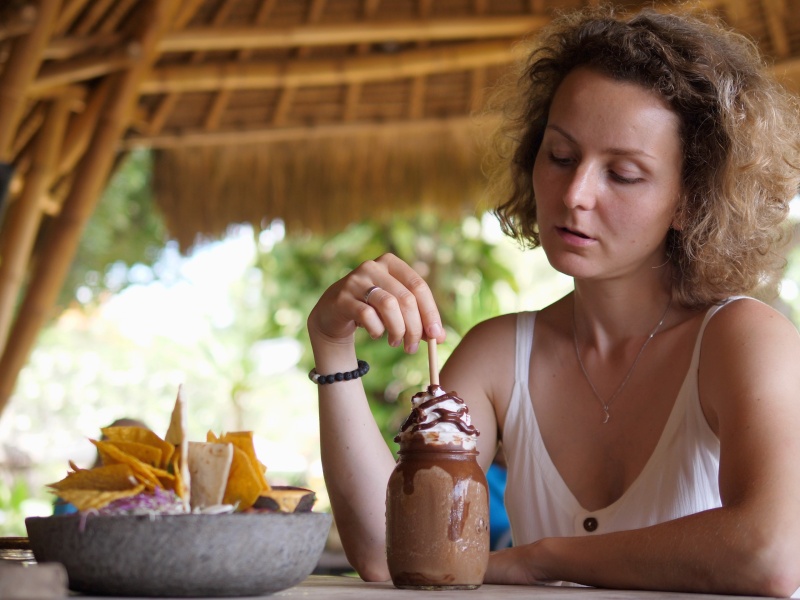 Solo dining
Going to a restaurant and sitting alone surrounded by couples and families can take some getting used to. Some solo travelers might find it depressing, even though the resort staff makes you feel as welcome as anyone else. Thankfully, you can always enjoy any meal relaxing in your villa.
An irritating question
Not so much a disadvantage, but a recurring occurrence is people asking why you are traveling solo. Again, it's all about being prepared for it. There will be a barrage of questions from fellow guests and staff about your "single" status.
Our recommendation is don't think about it too much. The staff stops asking after the first couple of days, and then it's just the occasional question from a curious guest.
Pro-Tip
When traveling to the Maldives, carry your own supply of condoms. They are available in pharmacies on some public islands but are sold only to married couples. Being a conservative Muslim country, sex outside of marriage is illegal. Private resorts tend to be lenient. While not advertised, you can always call reception and request some when required.